the glamour of grammar… le secret des mots.
Je vous le répète à longueur de temps : la grammaire c'est glamour !
If you master the language, you have power .. look at politicians !!!
What else is seduction than power on the others ? The power to charm !
Qui l'eut cru ? Who could believe that ?
Le mot glamour et le mot grammaire ont la même origine !
La même origine que grimoire ...
If you don't believe me, read the Oxford dictionary : http://www.oxforddictionaries.com/definition/english/glamour
When you will have read the back cover of the book "the glamour of grammar" !
you will be charmed :
Early in the history of English, the words "grammar" and "glamour" meant the same thing: the power to charm. Roy Peter Clark, author of Writing Tools, aims to put the glamour back in grammar with this fun, engaging alternative to stuffy instructionals. In this practical guide, readers will learn everything from the different parts of speech to why effective writers prefer concrete nouns and active verbs. THE GLAMOUR OF GRAMMAR gives readers all the tools they need to"live inside the language"--to take advantage of grammar to perfect their use of English, to instill meaning, and to charm through their writing. With this indispensable book, readers will come to see just how glamorous grammar can be.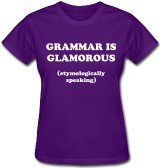 Partager cet article